We excountered problems with various brands of printers suddenly unable to print after march 2015 updates to Windows 8 and 8.1.
PCL XL error
subsystem: kernel
error: IllegalOperatorSequence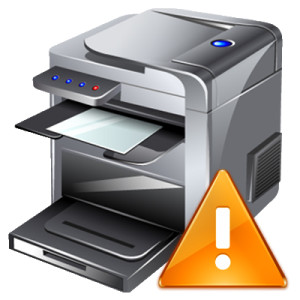 At first the workaround appeared to be simply to reinstall the driver or to use a PS driver instead of the PCL6 driver originally installed. To our surprise the issue came back shortly after.
Here's a list of things we tried:
Reinstall driver
Reinstall using an alternate driver (PS vs PCL6)
Updated printer firmware
Uninstalled Microsoft Updates (and reinstalled the drivers when that failed to fix the problem)
In our case it appears there was a combination that affected the printing. The anti-virus is somehow causing the issue in combination with the update. So here are the steps to fix the problem:
Disable the anti-virus
Install/reinstall the print driver (PCL6 or PS)
Test
Reactivate your anti-virus
Test (if the problem returns, turn the anti-virus off and test again.)
UPDATE: AVG kindly provided these instructions:
Go to advanced settings
Click Web Browsing Protection on the plus sign next to that
Online Shield plus sign
Directly click Expert settings
In the settings window on the right uncheck "Scan encrypted (TLS and SSL) network traffic.
-CTBOB team
We're delighted by the thousands of people that have benefited from these tips. Please help us by providing feedback and questions of your own. Visit our sponsors.