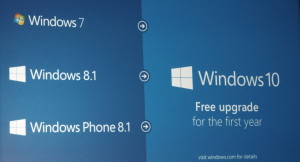 It's official Windows 10 will be launched on July 29th, 2015!
Here's a short list of what to expect:

The Start button is back and will return most of the functionality the mightly button once had.
Cotana the Digital Assistant with its' natural language abilities will let you use voice commands.
Universal Apps will enable you to load them on your PC and your Windows smartphone.
IE is dead, eh, I mean Spartan will be taking over.
Ther Settings have been reordered so you can find things more easily.
Continuum detects changes to the hardware and changes the settings accordingly., Think plugging in a tablet to a large screen (via a docking station). It's also an a great sci-fi tv show (unrelated, but totally worth mentioning).
XBOX. More of our readers won't care. Thus it's at the end  of this list. Windows 10 will play XBOX ONE games.
The Windows 10 preview users will get a message to update to the release version. Anything that has an original full version of Windows 7, 8 or 8.1 will have the ability to get Windows 10 at no cost for a limited time. If your PC was upgraded from a previous version, however, then you'll have to buy Windows 10.
-CTOBOB team