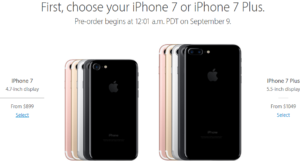 CTOBOB is live tweeting during Apple's exciting product launch today. As expected the iPhone 7 and 7 Plus maintain the same dimension and offer evolutionary enhancements. Promised as better battery life, more performance and better pictures with a 12MP camera (or dual camera in the case of the 7 plus).
The phones will come with 32GB of storage at a minimum for all colors except the new Jet Black which is offered in 64GB and 128GB versions only. The much rumored lack of an analog audio jack became reality. To counter this, Apple has not only put new headphones in the box along with the iPhones, but also provide an adapter. This should keep the pitch forks safely tucked in the closets.
The A10 chip powering the new smartphones are touted as being 40% faster with the 4 cores being divided into performance (2) and efficiency (2). Until we see the breakdown of one of these phones I'll assume the new chips combined with the new IOS 10 are most likely responsible for the claimed improved battery life.
As stated the usual colors are back with the addition of two shades of black instead of one. If you want extra gloss in your tone, the jet black looks very attractive on the pictures I've seen. The video they played onstage showing some of the manufacturing process where especially interesting. A lot of engineering has gone into the most simple of details. The best feature in my opinion is the waterproofing. They finally have a water resistant iPhone! (Apple: I could of used that on my last iPhone.)
The pricing is the same as it was for the previous versions, the iPhone 6S. Again, you get double the storage space for the same price. The iPhone 6S being offered will gain the extra storage space for the same price point as the outgoing iPhone 6.
All in all the iPhone 7 is predictable thanks in part to the rumor mill which has been releasing pictures and specs in the weeks and months leading to today's official launch. The iPhone 7 and 7 Plus smartphones are now on apple store and can be ordered as of Sept 9, 2016 for delivery on the 16th of September.
Although I'd love to try out the new Airbuds (wireless buds from Apple), I get a feeling I'll wait for the iPhone 7S or iPhone 8 which should bring a bigger step up from my iPhone 6S.